Speaking of cars, I kid you not, the boss' airport car in the hangar: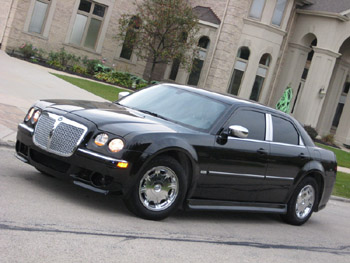 My understanding was the price was $300K.
He bought it because I guess he had to in order to get in line to buy the one he really wanted which if I remember right was 1/2 the price of the Sedan.
When he put the hood down on that car you saw more doors open and then close then I think on a 747. But man once it closed you had no idea where that roof had gone.
Anyways, I needed to drive it more than I did. The Mercedes coupe/sportscar had problems because it wasn't driven enough so much that it wouldn't lift up so you could drive it off. Got it towed. I needed to drive the Ferrari airport car as well but didn't so it had a dead battery. Which I replaced. Again the Ferrari he owned was to get in line for another Ferrari... Spider? So that thing just hung out in the corner. I locked myself out of it by accident when I was doing the battery. With help from a car guru down the street I was able to get back into it by pulling a cord under the front section. Neat trick.
See I'm not a car guy. Truck guy. Don't fit in sports cars. So I wasn't keen on this whole thing. In fact the first time I saw the Bentley all I saw the big B. Boss sells Buicks, so... "is that a Buick?" Luckily I asked the other pilot before the boss got out and he was sharp enough to say "don't say another word." "roger."
BUT, as to driving them around I'm not an idiot. Even if the car needed exercise I'd rather bang my head against the wall in fear of what would happen driving those cars around the trashy side of Gwinnett county. Besides the Ferrari had paddles, don't know how those work and if I should learn on a Ferrari.
I was forced to drive them though and when I did it was great and it was one hell of a car to pull into. But I have to say the $70K Denali was really nice as well. Just as nice on the road and interior noise. Both had big engines but were super quiet.