Time to stop politicizing Ivermectin

09-05-2021, 08:54 AM
Gets Weekends Off
Joined APC: Dec 2013
Posts: 1,064

---
Originally Posted by
TiredSoul
You can make all the assumptions you like but if your data is flawed then the conclusion is flawed.
Let's just start with one of the more outrageous examples to get a point across:
President declares Tanzania COVID free after because of herbal tea and prayers.
https://www.bbc.com/news/world-africa-52966016
There is no such thing as reliable data from any African country. That's not racist.
They simply don't have the health care system infrastructure to even remotely being able to take care of a population let alone during a global pandemic.
Using data that is so blatantly inaccurate is akin to falsification.
https://www.bbc.com/news/world-africa-55674139
Lets say a random county has a population of 1.000.000 and you test 5000 people and 1000 test positive then what do you do?
Celebrate and say only 0.1% has COVID or extrapolate and state 20% of your population has likely been infected and you have a problem on your hands?
Some countries barely have any testing capability so how can you ever assume that data is an accurate representation?
https://www.ncbi.nlm.nih.gov/pmc/articles/PMC7485446/
I posted the links above, there are major trials going on supported by real money. The data was good enough to start large 1st world trials.


09-06-2021, 04:50 AM

---
Originally Posted by
ThumbsUp
Unfortunately, using third world countries as a barometer in analyzing Heath statistics isn't very reliable. The same charts in Latin America, where ivermectin is used commonly (and was used for a time to treat COVID), paints a different picture.

In meta-analyses, the studies that came out of Brazil, Chile and others showed no affect of ivermectin on patient outcomes. Although, I didn't see any on its use as a prophylaxis.
can you post links to those studies?

09-06-2021, 06:29 AM
Gets Weekends Off
Joined APC: Mar 2018
Posts: 619

---

09-06-2021, 07:20 AM

09-06-2021, 07:21 AM
Gets Weekends Off
Joined APC: Feb 2018
Position: Retired from UAL
Posts: 120

---
Originally Posted by
ThumbsUp
NO NO...you don't understand. He found a study on the internet, therefore it has to be true.

09-06-2021, 07:23 AM

---

09-07-2021, 03:02 AM

---
Originally Posted by
ThumbsUp
Thanks. I had not seen this. I note the dosing schedule used in the second study seems very low (and was called out as a limitation by the studies authors) - much lower than I have observed on the studies which purport to show the drugs effectiveness.
thanks for the intelligent response - much appreciated. I agree that health statistics from countries that lack the basic means to manage this information is a bad idea.

09-07-2021, 02:28 PM

---
It's hard to fake data on deaths and cases now that tests are cheap and ubiquitous so I don't agree that the data from Africa is less important and neither did these researchers who said (and just so everyone understands p<0.001 means there's less than a 1 in 1000 chance the data is NOT correlated):
Our study compared the incidence of COVID-19 among countries with different PCT campaigns and those countries in which PCT is non-existent. It is perhaps obvious that the latter group is by far the largest. It should also not be surprising that this set of samples had a rather large variability (
Fig. 1
). However, in spite of this, the difference between nations that deploy PCT using ivermectin and those that do not use any PCT turned out to be highly significant (adjusted significance
P
< 0.01). These initial results were obtained on 15 April 2020 and because at that time SARS-CoV-2 was still being detected in new countries on an almost daily basis, we chose to monitor the situation and observe whether this correlation would over time become less significant. We updated our calculations and added additional newly affected countries several times throughout the month of May 2020 and noticed that the observed association between ivermectin MDA and lower COVID-19 incidence actually grew strictly stronger over time. By 5 June 2020, the adjusted significance had improved to
P
< 0.001, actually reported by IBM SPSS Statistics as 0.000. It has remained at that level since.
And, that was as of last June and since then the correlation has only increased.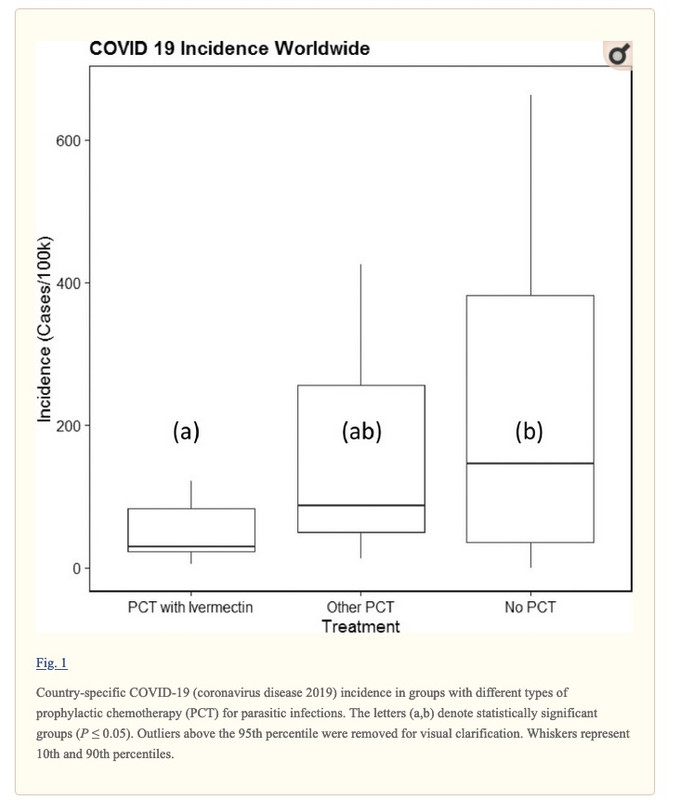 You can see the correlation fairly clearly yourself on the Johns Hopkins map. The dots in central and especially northern central-Africa are barely visible. All countries where they hand out Ivermectin for free to stop parasitic infections.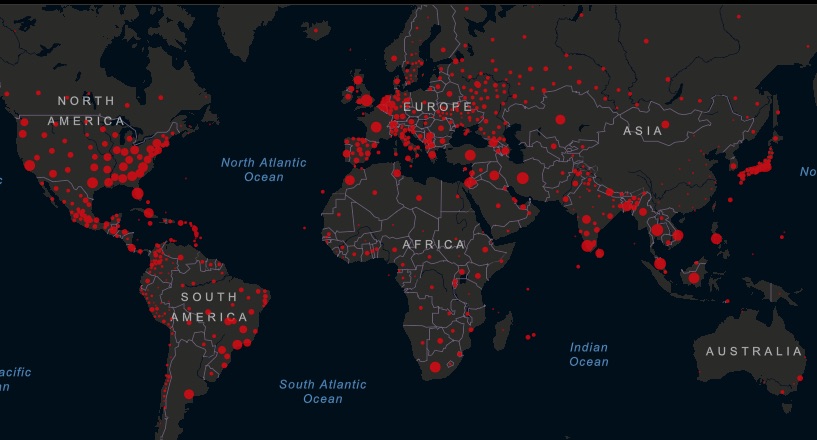 and then there are studies from local areas:
I
vermectin and the Odds of Hospitalization
Sharp Reductions in COVID fatalities
and finally numerous lab studies, plus the 31 Observational Controlled Trials, 27 meta-analyses of RCTs, plus the additional more OCTs and RCTs on prevention with Ivermectin:
Summary of the Evidence for Ivermectin in COVID-19

09-07-2021, 02:37 PM

---
And then these are interesting:

bit chute dot com/video/rvccR4Tg6fRS/
bit chute dot com/video/bhjjJfTTzoRg/

You have to link bit to the rest to make it whole. The forum wouldn't let me link b!tch. LOL

09-07-2021, 05:02 PM
Banned
Joined APC: Sep 2015
Position: Perpetual 4F1R
Posts: 1,461

---
Originally Posted by
ThumbsUp
You obviously haven't done much research into the West African Ebola outbreaks then. We rely heavily on their information at the moment.
Not to mention the Central American surveillance of zika and dengue. The south american surveillance of the same.
Once again, cherry picking.
Ivermectin is a very good treatment. Both pre and during. So is monoclonal antibody. Billions of people are treated with Ivermectin and HCQ protocols that have been developed when politics and profit are not entered into the equation. Healing is the common denominator here.
What is a fact though, is the utter failure of the mRNA jabs. But that, for whatever reasons, can't be discussed.
Thread
Thread Starter
Forum
Replies
Last Post
Flight Schools and Training
Flight Schools and Training
Flight Schools and Training
Posting Rules
You may not post new threads
You may not post replies
You may not post attachments
You may not edit your posts
---
HTML code is Off
---