Dominican Republic new airline

11-16-2021, 02:44 PM
Gets Weekends Off
Joined APC: Aug 2005
Position: tri current
Posts: 1,478

Dominican Republic new airline
---
Dominican Republic aviation regulator approves 30 routes for AraJet
By
Pilar Wolfsteller
16 November 2021
The civil aviation regulator of the Dominican Republic has approved 30 routes for DW Dominican Wings SA, which will fly under the new brand name AraJet, formerly Flycana, as the first low-cost carrier based in that country.
The Dominican Junta de Aviacion Civil (JAC) said on 10 November that it approved the airline's new name and a network of flights of "services of regular and non-regular air transport of passengers in cargo, in international operations".
The approved routes will connect the country's capital Santo Domingo to the United States, Cuba, Colombia, Costa Rica, the Netherlands, Mexico, Panama, Aruba, France, Guatemala, Peru, Haiti, Canada and Trinidad & Tobago.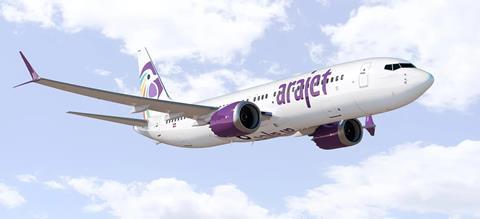 Source: AraJet
Rendering of an AraJet (Dominican Republic) Boeing 737 Max 8
An Arajet official confirmed that it is the same company, flying on the same operator certificate. It applied for the name change in September.
The airline has previously said it plans to launch next year, and in its approval, JAC says the aircraft will initiate operations in January 2022.
Victor Pacheco, who is listed as the founder of Dominican Wings, tells FlightGlobal on 15 November that the start-up carrier will be operating Boeing 737 Max 8 and Max 8-200 – a higher density version of the Max 8 - aircraft on an "pure ultra low-cost model" within the Americas.
"The amount [of aircraft] will depend on the conclusion of our negotiations with the Boeing company," Pacheco says.
The aircraft will have 189 seats, he adds.
The only other airline currently operating the Max 8-200 is Ryanair, which was the launch customer of the type. Ryanair Group has 28 737 Max 8-200 aircraft in service today, spread across its mainline, Malta Air and Buzz units, Cirium fleets data shows.
AraJet's first aircraft is currently in the Boeing paint shop, Pacheco adds. He promises more information about the new airline "later on".
Flycana launched in 2018, and had aspirations to operate 32 jets by 2025. Santo Domingo's Las Americas International airport was to be its home base and its core network would have served destinations in North, Central and South America.


12-31-2021, 10:25 AM

---
We will see how it progresses. I was approached by the DO to come in as a Check Airman but the pay is so low that it is laughable. That alone tells me that it isn't a serious operation.
I wish them luck nonetheless.

12-31-2021, 10:58 AM
Gets his house in order
Joined APC: Sep 2017
Posts: 301

---
but, but, but, but, but, but, but, but….NEELEMAN!
Oh, wait…

01-02-2022, 02:41 AM

01-04-2022, 06:54 PM
Gets Weekends Off
Joined APC: Apr 2011
Posts: 761

05-23-2022, 05:20 AM
Gets Weekends Off

Joined APC: Jun 2010
Position: DOWNGRADE COMPLETE: Thanks Gary. Thanks SWAPA.
Posts: 4,147
Thread
Thread Starter
Forum
Replies
Last Post
Posting Rules
You may not post new threads
You may not post replies
You may not post attachments
You may not edit your posts
---
HTML code is Off
---