Jogger killed by plane

03-17-2010, 06:57 AM

Jogger killed by plane
---
Beach jogger killed by plane likely never heard it
By RUSS BYNUM and DORIE TURNER, AP
3 hours ago
HILTON HEAD ISLAND, S.C. — The kit-built single-engine plane was gliding quietly as it came down for an emergency landing on a beach. Pharmaceutical salesman Robert Gary Jones, listening to his iPod while jogging, likely never saw or heard it before the aircraft hit him from behind Monday evening and killed him.
"There's no noise," said aviation expert Mary Schiavo, a former inspector general for the National Transportation Safety Board. "So the jogger, with his ear buds in, and the plane without an engine, you're basically a stealth aircraft. Who would expect to look up?"
The 38-year-old Jones, whose mother said he was serious about nutrition and exercise, especially jogging, was on a business trip to Hilton Head for GlaxoSmithKline. He was looking forward to getting home to the northern Atlanta suburb of Woodstock, Ga., for his daughter's third birthday Wednesday, Pauline Jones said.
"I was never so shocked in all my life," she said of learning the news, her voice shaking. "They say that God only gives you what you can handle. I said, 'You know what, I've reached my max.'"
The pilot, Edward I. Smith of Chesapeake, Va., and his lone passenger walked away from the crash landing near the Hilton Head Marriott Resort and Spa. The Beaufort County Sheriff's Office named the passenger as David Henry, 59, also of Chesapeake, The Island Packet newspaper reported.
Smith was on the beach Tuesday, when the four-seater aircraft was hoisted onto a trailer hitched to a pickup truck and towed away.
"I've got a lot of issues going on right now," Smith said. "I've got a plane that's all torn up. And I've got a young man that I killed."
The Lancair IV-P aircraft had lost its propeller, with oil smeared all over its windshield, making visibility difficult, authorities said. It was "basically gliding" when it instantly killed Jones, said Ed Allen, the coroner for Beaufort County on the South Carolina coast.
The plane took off from Orlando, Fla., at 4:45 p.m. Monday and was en route to Virginia when it started leaking oil at about 13,000 feet, said Joheida Fister, spokeswoman for Hilton Head Island fire and rescue.
National Transportation Safety Board spokesman Keith Holloway said no cause had been determined. He said the plane would be inspected in Virginia and that investigators would interview the pilot and any witnesses.
"We don't know what occurred, especially since we haven't actually examined the aircraft," Holloway said. "We are still gathering facts."
A Federal Aviation Administration spokeswoman referred inquiries to the NTSB.
Even with oil smeared on the windshield, Schiavo, the former NTSB official, said Smith should have been able to see through a small window on the side of the plane and possibly yell out to anyone below
.
(uhhhh...what? This woman used to run the NTSB??)
Still, there may have been little time to try to avoid hitting the jogger, she said.
She said Smith made the right choice in landing on the beach rather than the water. The aircraft likely wasn't carrying flotation equipment.
"Planes like this sink like a rock," she said.
The airplane model that killed Jones has a turbine engine, can be built from a kit and can fly up to 370 mph, according to the Lancair Web site. The "fastbuild kit" for the IV-P model, which has a pressurized cabin, is listed as costing $129,000 and is "fully FAA approved," the site says.
The plane "has proven over the years to be very safe, reliable and extremely low in maintenance," the site says.
Joseph Bartels, chief executive officer of Lancair International, the Oregon-based company that produces the aircraft kits, said Tuesday that the kit produces a "light, fast and strong aircraft."
"This particular aircraft is one of about 1,000 sold either as kits or completed," Bartels said, though he added he had no specific knowledge about the airplane that had crashed. His firm does not produce the engine, which is purchased separately, he said.
Bartels, who had seen online news photos of the damaged plane, called the landing "miraculous" given the damage to it, but also expressed sorrow at the deadly outcome.
Jones' mother, who lives in Dunedin, Fla., said he was a wonderful husband to his wife, Jennifer. The couple also has a 5-year-old son.
Pauline Jones said she's going on "borrowed strength."
"It's been very difficult," she said. "I haven't been to bed since I heard. I haven't had any sleep."
___
Turner reported from Atlanta. Associated Press writers Susanne M. Schafer and Meg Kinnard in Columbia contributed to this report.


03-17-2010, 08:55 AM

---
This is just a sad story. When I heard about it yesterday it took a few seconds for it to sink in because this is just something that you don't hear every day. Unfortunately, it was simply at the wrong place at the wrong time.

RIP

03-17-2010, 09:26 AM

---
Very sad. Nice comments by Schiavo. This A/C was reported to be turbine powered. Any thoughts as to what would cause loss of oil and the prop to fall off? Prop Governor? Seizing of the engine and sudden stop would torque the prop off?

03-17-2010, 07:33 PM
Gets Weekends Off
Joined APC: Jul 2006
Position: XJT CA
Posts: 522

---
Obviously, ever incident/accident is different but I'm pretty sure it has something to do with the governor. Here's a few pics of a Malibu Mirage that had a governor oil leak and subsequent prop shedding.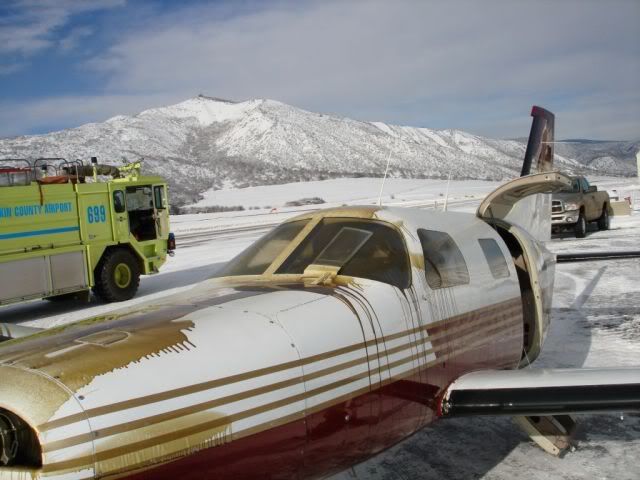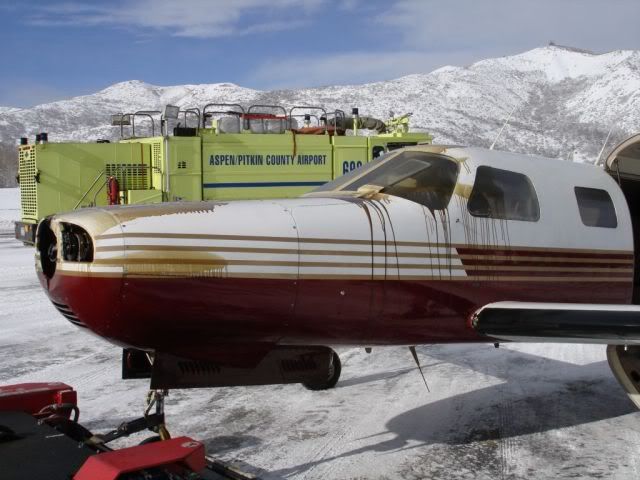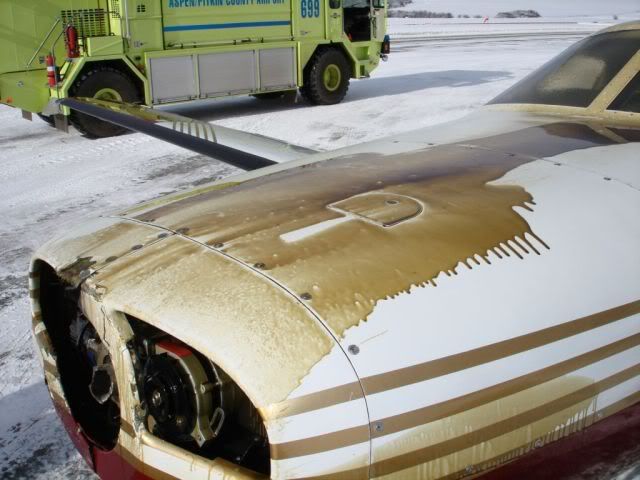 As for the jogger, there's no "bright side" when a family is suddenly left fatherless but from his point of view, he died instantly with no pain, no fear, and listening to some good tunes while enjoying a nice run on the beach. That's got to be near the top of list of "Good ways to go," IMHO.
Thread
Thread Starter
Forum
Replies
Last Post
Posting Rules
You may not post new threads
You may not post replies
You may not post attachments
You may not edit your posts
---
HTML code is Off
---