Is inflation looming?

06-12-2021, 10:43 AM

Is inflation looming?
---
Deutschbank seems to think so.
https://assets.realclear.com/files/2..._inflation.pdf
An excerpt:
Rising oil prices could compound any consumer-driven inflation. Indeed the price of oil has haunted the Fed before. A series of oil shocks contributed to the ratcheting up of inflation during the 1970s, but the Burns Fed chose to focus more on the CPI excluding oil. Then it excluded surging food prices and the idea of "core" inflation took shape. Subsequently, more and more items were excluded. Eventually, however, the Fed recognised that all the supposed transitory sources of inflation had spread everywhere and double-digit inflation had leaked into the "core".
Is the Fed making the same mistake again by justifying its extremely patient approach on the basis of transitory inflation? That question is being asked just as it risks being caught in today's political mood and supporting the administration rather than leaning against the macroeconomic implications of its actions.
Human biases are also feeding the "transitory" narrative. Just one example regards inflation expectations. These have proven near impossible for economists to model. Hence, the profession will overweight the bottom-up micro components – they are easier to predict. Furthermore, model-based analyses find it difficult to predict the turn in inflation if prompted by a paradigm shift that raises expectations.
With a few years of very low inflation expectations behind us, we are ill-prepared for a dramatic shift. That is especially the case as many asset prices today rely on the monetary policy support of low rates and abundant liquidity that has been a hallmark of the post-2008 world.

Already, many sources of rising prices are filtering through into the US economy. Even if they are transitory on paper, they may feed into expectations just as they did in the 1970s. The risk then, is that even if they are only embedded for a few months they may be difficult to contain, especially with stimulus so high.


06-12-2021, 11:05 AM

---
LOL inflation isn't looming, it's already here, and has been for a long time.

The real question is whether or not the most recent barrage of money printing will result in hyperinflation, or if it will stay below hyper levels.

06-13-2021, 10:32 AM

---
It will probably settle back down as people go back to work. If not inflation itself will probably cool the economy some. Hopefully it won't all spiral down the toilet... we need the economy to grow it's way out of the covid deficit, plus whatever the current regime tacks on.

Is the fed still doing pay-to-stay (at home)? It's hard to find low skill workers right now.

06-13-2021, 03:02 PM
Gets Weekends Off
Joined APC: Dec 2017
Position: Retired NJA & AA
Posts: 1,314

---
A lot of the economy is still out of whack. We had 5% rate of inflation from May 2020 to May 2021. A full one-third of that was used car prices. They're up almost 30%. My 2 yr old 2019 Santa Fe Ultimate trim with 14K miles is now worth just 10% less than what we paid for it brand new. New cars are in critically short supply, some manufacturers are down to 2 weeks supply of certain types. Most are selling for MSRP or higher if you can find what you're looking for.

If you have a used car you don't need now is a great time to sell it, but don't buy a new car unless you have to.

07-11-2021, 06:00 AM

---
Soaring rental rates, inflation in U.S. have staying power
by ALEX TANZI BLOOMBERG NEWS (WPNS) | Today at 1:00 a.m.
0
Follow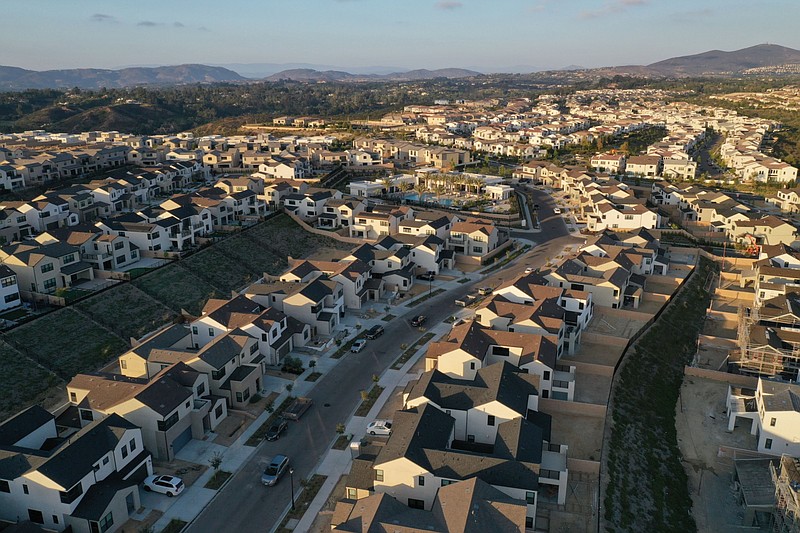 New homes seen in an aerial photograph above the Pacific Highlands Ranch master planned community in San Diego, Calif., in 2020. MUST CREDIT: Bloomberg photo by Bing Guan
The cost of renting a home is soaring in cities nationwide, squeezing the finances of low-income households and threatening the consensus that pandemic inflation will soon fade away.
The median national rent climbed 9.2% in the first half of 2021, according to Apartment List. While part of the increase reflects a bounce-back in prices that dropped earlier in the pandemic, the real-estate firm reports rents are now higher than if they had stayed on their pre-covid trackAnd they're still rising at a rapid clip -- just at the time of year when the largest number of lease renewals fall due, locking millions of tenants into bigger monthly bills. Surveys by the New York Fed and Fannie Mae suggest renters are braced for further increases of 7%-10% in the coming year.
Higher rents are the kind of price increase that's hard to reverse -- unlike many of the ones that have accompanied the economy's reopening, from lumber to used cars. That means a sustained run-up in rents could represent a bigger challenge to the Federal Reserve's view -- shared by most investors -- that the current spike in inflation will prove transitory.
"It's a stickier trend that I think we're seeing in other components right now," said Sarah House, an economist at Wells Fargo & Co. "When you're signing a lease, on average, it's probably for a year or so."
Another effect of rental inflation is to widen inequalities in the housing market that play into wider gaps in income and wealth. The pandemic recovery has been labeled "K-shaped" by some analysts because its benefits skewed toward the rich.
House prices jumped the most in more than 30 years in the 12 months through April.
The 15% gain in the benchmark Case-Shiller index over that period "would translate into a wealth gain of $45,000 for a typical homeowner," said Lawrence Yun, chief economist at the National Association of Realtors. Many of those owners also refinanced mortgages at historically low interest rates during the pandemic -- trimming their monthly payments even as the value of their equity surged.
There were about 9 million refinance deals in the U.S. last year, according to research firm CoreLogic, and they produced an average saving of about $180 a month for the borrower -- locked in for as long as 30 years. Meanwhile renters -- whose typical income is about half that of homeowners, according to pre-pandemic research by Zillow Group Inc. -- are seeing their housing bills rise.
Many also face the threat of eviction when a federal moratorium expires at the end of July.
June and July are the months when the largest number of leases come up for renewal. A typical renter signing a new contract this summer will be paying almost $100 a month more, according to the Apartment List data
https://www.nwaonline.com/news/2021/...-have-staying/
Thread
Thread Starter
Forum
Replies
Last Post
Posting Rules
You may not post new threads
You may not post replies
You may not post attachments
You may not edit your posts
---
HTML code is Off
---