Quote:
Originally Posted by
viper548
I've had the strongbags one for a year and a half. I've had to replace 2 wheel wells. The CS guy said they had a batch of weak plastic which may account for that. Some rivets popped on the side panels, they replaced those. The zipper pullers come off too easily. CS said they had a fix for that, but after replacing them, 2 fell off on my first trip
The guy that runs Strong Bags is an FO at Southwest, named Ethan. I had all the above issues, within months. The aluminum rivets that hold it together sheared, and the whole "box" collapsed. The wheel wells (plastic moldings that physically hold the wheels on) literally fell apart, leaving a gaping hole where the wheels had been.
Several of the zippers have failed. The slide handle's little, tiny plastic pins that keep it from collapsing until you push the button on top... one side failed. The edges of the stamped aluminum panels were sharp enough to cut my hand. The forward "feet" are just bent over sheet aluminum, that bends easy and scratches my tile floor. (LW uses aluminum cast feet).
Ethan took the bag back, and fixed the wheel wells and riveted it back together. The zippers are still failed, and so is the handle issue. He advertised recently that he now has metal zippers, so that might be better.
I have both bags, as I also own the the Luggage Works bag (the heavy cast aluminum / cold rolled steel handle one). I tend to use either bag, and like the relative lightness of the SB, and the relative robustness of the LW.
If I were to need a new bag, I'd build it myself. Really. I went and bought a sheet of .090" 6061-T6 aluminum sheet to build the box (like SB), but use metal wheel attachment like LW. I would use a more robust handle than SB, but not the grotesquely heavy LW style. It would have rubber bumpers for feet. And it would use steel zippers and flaps with velcro to cover them.
Wheels broken out of Strong Bag
Cracks forming on Strong Bag wheel wells prior to complete failure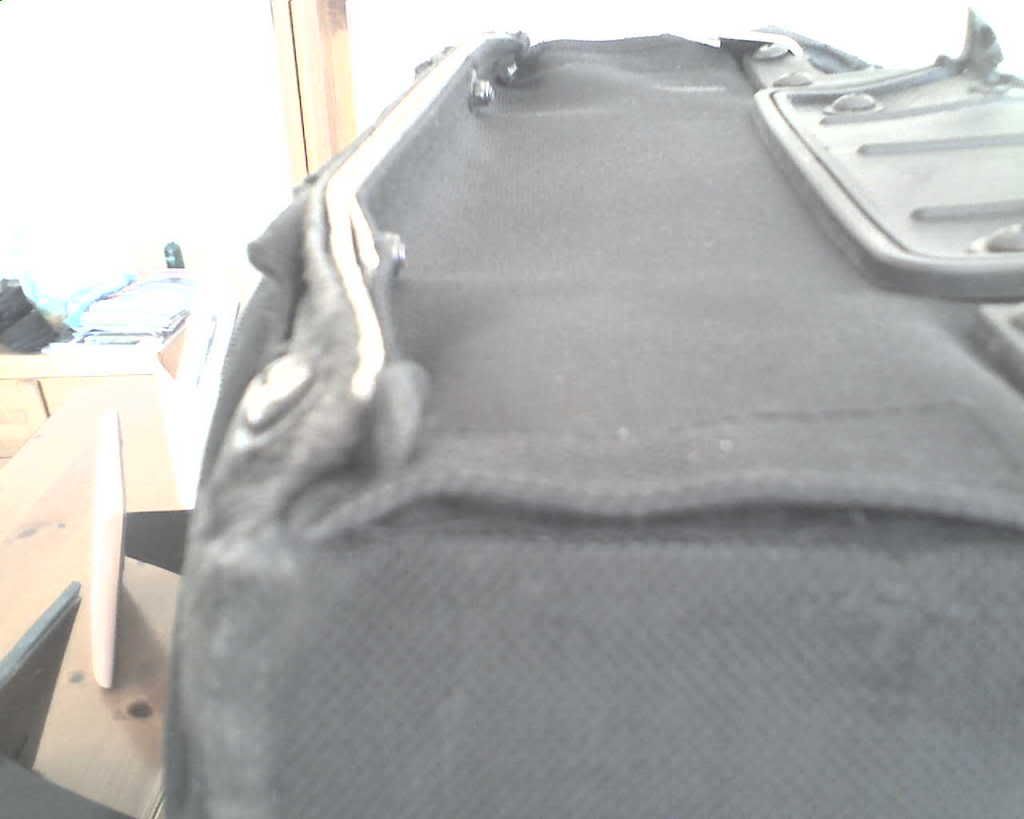 Strong Bag "feet"