Another "near miss" at AUS

02-04-2023, 08:46 PM
Gets Weekends Off
Joined APC: Dec 2017
Position: Retired NJA & AA
Posts: 1,700

Another "near miss" at AUS
---


02-05-2023, 05:20 AM
Line Holder
Joined APC: Sep 2022
Posts: 46

Near Miss in AUS
---
A FedEx 767 came within ~30' of spreading LUV in AUS. Seems like bad WX and some poor SA from several folks almost resulted in a really bad day. Tower reported RVR of 1200/600/1600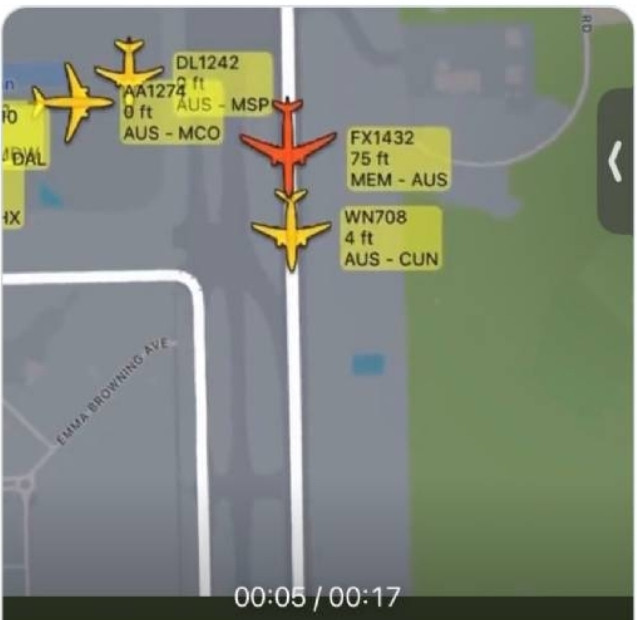 Track from Flight Radar
https://twitter.com/rawsalerts/statu...60444985720835
Audio
https://t.co/jnKKbvOBb0

02-05-2023, 06:15 AM
Gets Weekends Off
Joined APC: Feb 2022
Posts: 418

---
Kudos to the FedEx crew. In AUS I've continued and landed when everyone was too close possibly reinforcing this bad behavior. If I had gone around we would only have been separated vertically. There must be more to this than a go-around.

02-05-2023, 07:11 AM

02-05-2023, 07:40 AM

---
Originally Posted by
AZFlyer
Why would a controller clear an aircraft for takeoff during CATIII operations (600 RVR lowest reported) when an arriving aircraft is at 3 miles? The approach fix is at 3.2 miles.
Second, why would the Southwest jet accept a takeoff clearance this close during these conditions? Isn't the ILS Critical Area supposed to be sterile for arriving aircraft approach fix to landing?
Thread
Thread Starter
Forum
Replies
Last Post
Posting Rules
You may not post new threads
You may not post replies
You may not post attachments
You may not edit your posts
---
HTML code is Off
---