Silver Airways

01-03-2013, 07:27 AM


01-05-2013, 10:37 AM

---
Originally Posted by
CaptainCarl
CaptainCarl:
Read the article from the link that you provided. Reminded me of a thread that I started back in March '08. Had to dig into the archives for this one. Since joining APC though, I've gained a greater appreciation for turboprops.
http://www.airlinepilotforums.com/ha...-comeback.html
atp

01-10-2013, 04:09 AM

Silver Airways
---
Looks like Lakes is putting the full court press on the Montana flying: http://www.kxlo-klcm.com/site/index.php?option=com_content&view=article&id=699:g reat-lakes-airlines-looks-to-bid-on-lewistown-essential-air-service&catid=10:news-pod&Itemid=114

01-10-2013, 07:24 AM

01-10-2013, 07:27 AM

---

01-11-2013, 06:28 AM

Silver Airways
---
Wonder if its the two airplanes that are leaving billings. If so good riddance they can have those two hunk of junks.

Also I heard lwt might be loosing EAS altogether as the federal subsidy exceeds $1000 per passenger. It's just over $2000 per passenger. More than twice what the federal program allows.

On that note anyone know when the next Saab class is?

01-11-2013, 06:54 AM

---
I came up with this bid preference sheet to figure out what lines, in order, I'd like to bid for considering multiple factors. Factors such as Block credit, days off, consecutive days off, days off and whatever else. The way the work sheet works is that from Flica you sort the lines to your preference, then in descending order list the line numbers. The column on the right has the lines, in order, with a point assessment. I go through the other columns and add up the points for where the lines are in each row. Then, when you add the points up, you can put them in order on the bottom according to points in ascending order. As in golf, the line with the least points will be your #1 choice. This way you can get the best of all the factors.
Yes I was really bored to come up with this, and my nifty college degree helped me out. If you want this in word document, PM me and I'll email it you. This helps me to sort the lines considering the factors, I want to fly a lot, but want a lot of days off in a row.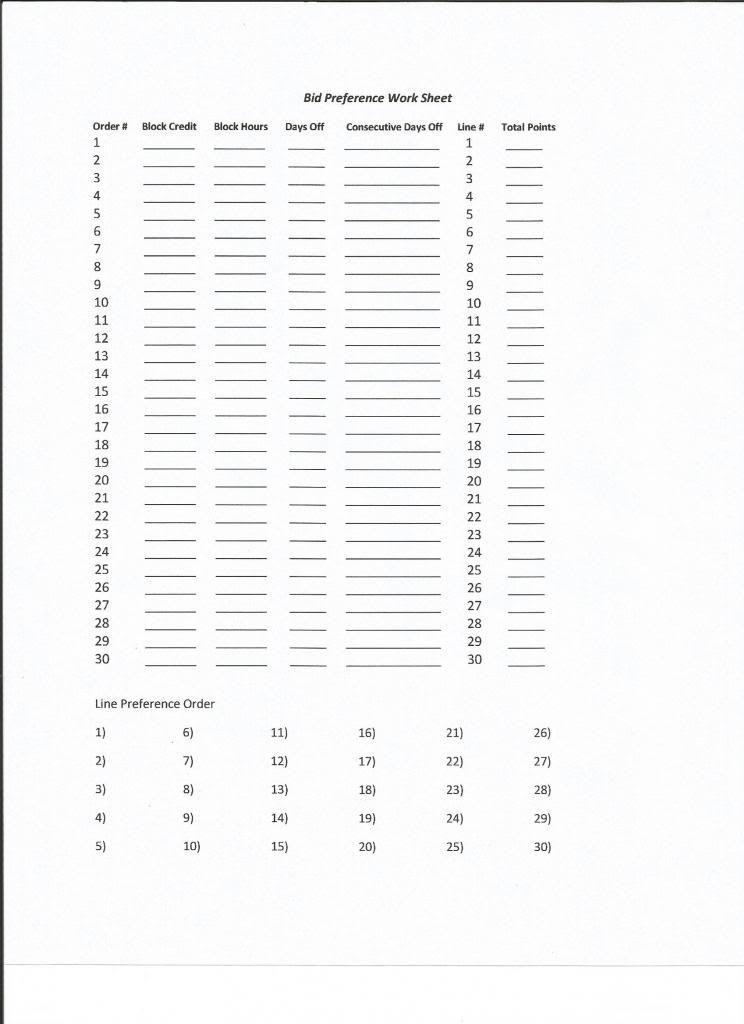 01-11-2013, 02:10 PM

---
The problem is the lines change. So what looks good in one base on one month changes the next. For instance MEI now has 2 lines with 1 overnight in ATL a month. I think with the GNV-ATL route ending we will see some changes to the lines as flying shuffles around. IIRC the overnight was done by a GNV crew, so maybe they can change lines around and make use of us a little bit more. It's certainly possible.
Thread
Thread Starter
Forum
Replies
Last Post
Posting Rules
You may not post new threads
You may not post replies
You may not post attachments
You may not edit your posts
---
HTML code is Off
---